You are currently browsing the category archive for the 'systemic' category.
SFIP's Microgrid Systems Lab (MSL) leads the grid modernization technology accelerator, the X_GRID Acceleration Hub, which has successfully completed its initial development phase with the formation of a coalition of key regional stakeholders. X_GRID is designed to accelerate national efforts to improve grid resilience and sustainability, while creating a foundation for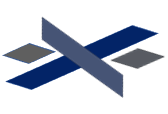 strategic economic development in New Mexico and the southwest, based on the region's distinctive assets in the grid modernization arena. The current coalition partners are: Read the rest of this entry »
New Mexico Research Institutions Win Major NSF Award
SFIP's Microgrid Systems Laboratory joins universities and national labs for microgrid focus
The National Science Foundation has awarded $20 million to a consortium of research institutions to develop the New Mexico SMART Grid Center. With local cost-share, total funding for the five-year program is $24 million.
The consortium, comprised of the University of New Mexico, New Mexico State University, and New Mexico Tech, with Sandia National Laboratories, Los Alamos National Laboratory, and the Microgrid Systems Laboratory, will work toward modernizing the nation's electric grid to become SMART (Sustainable, Modular, Adaptive, Resilient, and Transactive). Read the rest of this entry »
A multi-organization team led by SFIP's Microgrid Systems Lab has proposed the Whole Energy Systems Transitions (WEST) project for funding through a new program in New Mexico, the Collaborative Zone Grants. Created by three leading local philanthropies, the McCune, Thornburg, and Santa Fe Community Foundations, the grant "…is an opportunity for collaborations of organizations and other entities to apply together for multi-year funding to test, prove and support approaches to New Mexico's challenges that extend beyond the mission of any single organization."
The WEST proposal addresses the funders' framing question, "What would an equitable energy transition look like for New Mexico communities?" Within that framework, the main issue the project seeks to address is that NM's transition to a 21stcentury energy system – which we define as sustainable, resilient, and equitable – will have both universal impacts on all New Mexicans (primarily due to economic diversification from the state's reliance on fossil fuel production), and also diverse impacts on the various different types and sizes of communities (rural, urban, traditional, Native American), and depending on their economic base and vitality. Read the rest of this entry »